Meet Team San Diego Harley-Davidson
Leadership
New York Myke
Owner
Myke, also known as "New York Myke" is the owner of San Diego Harley-Davidson®. He is an Air Force veteran, a true patriot and passionate about all things that represent freedom such as Harley-Davidson® motorcycles. New York Myke is very community service oriented, cares deeply about our military and protecting our freedoms.
Ty
General Manager
Ty is a U.S. Air Force Academy graduate and for 15 years has led San Diego Harley on a path to excellence pushing his staff to provide an "above and beyond" experience to every customer. Ty currently rides a 2018 Road Glide Special.
Sales Department
FatCat
General Sales Manager
Christian "Fatcat" has worked in the Harley-Davidson® industry for over 9 years. He loves the family environment and says "we have a kick ass shop here at San Diego Harley, and our bike nights are amazing." His favorite aspect of his job as Sales Manager at SD H-D® is "being a part of the customers' buying experience." Fatcat rides a Softail Deluxe. Stop by and say hi to Fat Cat and his team!
Taco
Sales Manager
Chris "Taco" Tautkus rides a 2015 Dyna Low Rider® FXDL. He loves that SD H-D® is "family owned and operated and they take care of the military." He's proud to work for a company who goes above and beyond for our H.O.G.® members, the motorcycle club community, active duty military members and veterans alike. Taco served in the Navy for eight years as a rescue swimmer. He loves motorcycles and getting people on a bike.
Chad
Sales Manager
Chad might look intimidating considering he spends the majority of his time outside of work at the gym, but he's the nicest guy possible. Chad is always smiling and he is genuinely passionate about what he does recognizing that he makes dreams happen for people every single day. Chad is loyal to San Diego Harley-Davidson and we feel very lucky to have him! He currently rides a 2019 Road Glide Special.
T-Boat
Assistant Sales Manager
T-Boat thinks SD H-D® is the best destination possible and he loves talking with customers and helping them find their dream bike. He strongly feels that buying a Harley-Davidson® changes your life, and he is honored to be a part of the experience. He loves San Diego Harley® because "it has so much to offer and the best and biggest of everything!" T-Boat rides a 2017 Police Road King.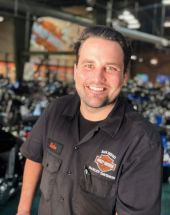 Duke
Assistant Sales Manager
Chris aka "Duke", is originally from Connecticut, but now lives here in Sunny San Diego! His favorite part about working for San Diego Harley is the fact that it is family owned and operated, and it's love for our military. Duke rides a 2018 Low Rider.
Vanessa
Finance
Vanessa has been with San Diego Harley® for over 17 Years! She loves working for a family owned business, the atmosphere and camaraderie, and helping people make their dreams come true. Everyone who knows Vanessa knows that she is a huge pet lover. She has three dogs. She also loves spending time with her family, going to concerts, and riding her motorcycles. She has a 2013 FXDB.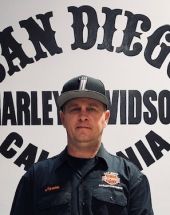 Jason
Finance
Jason returns to San Diego Harley after working for Harley-Davidson corporate in Milwaukee for 3 1/2 years. He has been in the Harley-Davidson industry for 18 years and served in the United States Coast Guard as a helicopter Rescue Swimmer. Jason is married and loves spending time with his 3 kids when he is not working. He loves the positive vibe of San Diego Harley and our support of the military. Jason currently rides a 2016 Low Rider S and bought his first Harley-Davidson at San Diego Harley in 1999.
Chris
Fit Specialist
Chris is San Diego Harley through and through working here in many capacities over the years. He is a true HD motorcycle enthusiast and loves to go on test rides during the day to get out of "the office".
Vince
Fit Specialist
Vince is new to San Diego Harley, but is a long time Harley rider. He loves coming to "work" and helping people find their dream bike. He rides a 2017 Dyna Low Rider.
Igor
Fit Specialist
Igor is from Jacksonville, Florida and recently moved to San Diego. He looks forward to going on test rides as often as possible so he can enjoy SD's awesome weather, so if you wanna go for a spin during the week hit Igor up. He rides a 2019 Sport Glide.
Pedro
Fit Specialist
Pedro started his journey working as San Diego Harley's full time custodian and after making friends with everyone on the staff so easily, he quickly found his way to being one of our most popular staff members. He's a huge sports fan, so if you have the time, find him to chat about football, basketball, etc
Lou
Fit Specialist
Big Lou is a U.S. Army Veteran with 6 tours of Duty. He loves everything Harley-Davidson and is excited to be working with local riders to find their dream Harley. Lou is an artist in his free time and reads philosophy and psychology, and of course enjoys the adrenaline rush of hopping on a Harley-Davidson motorcycle. Come see Lou for a test ride today!
Aaron
Fit Specialist
Aaron is originally from Chicago, and after growing up all over the mid-west was drawn to sunny San Diego. He is a U.S Army Infantry veteran, and when he's not surfing he's riding his 2014 Street Bob. Aaron likes the friendly knowledgeable staff at SDHD and is looking forward to helping you find your next Harley.
Service Department
Keith
Service Manager
Keith has been working in the Harley-Davidson® industry for over 10 years. He has 2 bikes and has been riding for 35 years. Keith appreciates San Diego Harley-Davidson's® "commitment to the customer." His favorite aspect of working in service is fixing and servicing a customer's bike and then hearing about how great it ran on their amazing road trip. Outside of riding, Keith plays the drums and enjoys the great outdoors.
Josh
Assistant Service Manager
Josh rides an FXRS. He is a natural team leader and says he loves working in a great team environment. Josh has worked in all aspects of the service department from wrenching to service writing and is now leading the team at our Morena location. According to Josh, "customer satisfaction is my #1 goal."
Clint
Shop Foreman
Clint has worked for San Diego Harley® for over 10 years and is a mainstay in the San Diego motorcycle community. Clint's committment to excellence and customer satisfaction drives the San Diego Harley-Davidson Service Department. You can find Clint around the shop doing wheelies on a mini bike or holding stand up comedy court for anyone that will listen.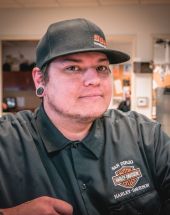 Jordan
Service Consultant
Jordan rides a 2018 115th Anniversary Limited and loves everything about working at San Diego Harley-Davidson. In his words, "I love it here!" He has excellent attention to detail and enjoys working with our amazing customers. He was born and raised in San Diego.
Spencer
Service Consultant
Spencer is a Navy veteran (Hospital Corpsman) and rides a 2004 Dyna Super Glide. He loves coming to work everyday because he gets to "work with motorcycles, and the enviorment at San Diego Harley on a daily basis is nothing short of exciting, hilarious, laid back, and fast paced." Spencer is as nice of a guy as they come and he genuinely cares about our customers and their bikes.
Xavier
Service Consultant
Xavier enjoys working at San Diego Harley because of the atmosphere. He makes sure the job is done quickly and efficiently. His mom has a Masters in computer software and design and his dad is a retired veteran of 20 years in the Marine Corps. Xavier is very proud of his family and also loves spending time with his two dogs at the beach.
Phil
Service Consultant
Phil joins us from upstate NY, where he has been riding motorcycles since he was 5 years old! He has worked in the motorcycle industry for over 15 years, and has loved every second of it. Phil's favorite part of his job is being able to truly help people. On Phil's freetime you can find him playing in pool tournements, or ripping around on his '98 Wide Glide!!!
Charles
Collisions Manager
Charles is a San Diego native joining us in the Parts Department. He's worked all around the SoCal area for other Harley-Davidson shops but the solid reputation of San Diego Harley-Davidson brought him to our shop on Morena. When he's not working on expanding his vast moto knowledge or sourcing a part of the bike build of your dreams, he can be found riding his 2000 FLSTF and rolling his own cigarettes.
Brian
Motorcycle Technician
Brian is new to San Diego from Chicago, where he lived with his brother and their dogs. Impressively, he has been with Harley-Davidson® for 18 years working as a top tech! He rides a Dyna FXDCI & a Sportster and loves the thrill of drilling down to the nuts and bolts of bikes. When he's not at work, he likes relaxing in his garage with his monster truck and enjoying a nice glass of whiskey.
Kaulin
Motorcycle Technician
Kaulin has been at San Diego H-D® for 2 years, and been in the industry for 4. He likes the small shop vibe of SD H-D® with big shop production. Kaulin loves his job and rides both a FXDX-T and has a Sportster. You can see Kaulin out racing the SD H-D® Flat Track Sportster around southern California!
Ryan
Motorcycle Technician
Ryan comes from Oregon and has been with Harley-Davidson® for the past 9 years. He likes the constant work at SD H-D®, and working with his coworkers in a fun environment. When he's not working on bikes at SD H-D® he plays guitar, likes "beers, laughs, comedy shows & motorcycles."
Eric H.
Motorcycle Technician
Eric has worked at San Diego Harley® since 2007. "NY Myke is a great American and I love working for this company." He also likes doughnuts and free coffee, and when he's not working he's riding his custom Dyna Switchback through the twisties in Chula Vista.
Jonny Ray
Motorcycle Technician
Jonny Ray has worked for San Diego Harley-Davidson® for Over 3 Decades!!! His favorite part about his line of work is test driving bikes. "Even when you're in a bad mood, a quick test ride will put you in a better place." Johnny has been turning wrenches since he was 3 years old, "and I love being a gearhead." He has a 13 year old son and a good friend that drives monster trucks. Hanging out in the pits at monster truck events is where Jonnny likes to be when he's not at work.
Ryan
Motorcycle Technician
Ryan rides an XL1200, loves his job and firmly believes in honestly and integrity. According to Ryan, "San Diego Harley-Davidson® stands by its family values, attention to detail, and supporting an American past time. San Diego Harley-Davidson® supports all branches of our country's Armed Forces as well as helping people of all walks follow their dreams of owning and riding a Harley®." We love having Ryan on the SD H-D® staff and really appreciate all of his hard work and dedication.
Zach
Motorcycle Technician
Zach is a new technician at San Diego Harley-Davidson and really knows his bikes. He started riding dirt bikes as a kid and has been riding since for over 20 years. He loves his Dyna. He was born here in Perris, California, and is now married with two children. Outside of riding motorcycles, and being a family man, Zach enjoys shooting guns as a hobby.
Snowball
Motorcycle Technician
Snowball hales from the great state of Vermont and moved across the country to work at San Diego Harley-Davidson®. "What I love about living in San Diego is the opportunity to work at an awesome dealership...the great friends I've made living in SoCal....and of course the year round riding!"
Mike
Motorcycle Technician
Mike is new to our Morena Service Department but not new to working on bikes. He's gotten his hands dirty from working on bikes his whole life and is excited to join forces with a bunch of other like-minded techs. San Diego Harley-Davidson is happy to welcome him to our team of expert mechanics.
Whisper
Lot Tech
Bryan aka "Whisper" is one of the friendliest people you will ever meet. He is a lot tech here at SDHD and LOVES it, especially his boss and co-workers. What makes him best at his job is his attention to detail. Whisper is a San Diego native and is in the process of looking to buy a Black FDXL. He is leaving us this winter to join the Army, and we couldn't be more proud of him!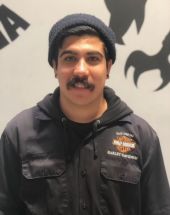 Joe
Lot Tech
Joe, known for his "killer stashe" makes an awesome Lot Tech because of his passion for riding Harley-Davidson motorcycles. He loves the Freedom it brings and the "breeze on my knees." Joe, who is from San Diego, is willing to learn and do what it takes to succeed at San Diego Harley-Davidson.
MotorClothes Department
Jessica
MotorClothes® Manager
Jessica feels that she "couldn't have asked to work with a better group of girls. I enjoy the positive energy and fun environment. It's like home away from home." Jessica always has a good attitude and makes sure everyone around her is happy. Jessica grew up riding on the back of a Harley-Davidson® since the age of 9. She has lived all over California, Hawaii and Las Vegas, a true nomad at heart, but now "San Diego is where I call home and SD H-D® has been like a second family to me."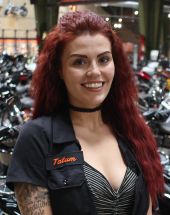 Tatum
Assistant MotorClothes® Manager
Tatum is our MotorClothes Warranty and Assistant Manager. She is originally from Canada, but now lives here in San Diego. She doesn't ride, however she looks great on the back of a bike! If she isn't here at San Diego Harley-Davidson on Morena making everyone laugh, you can find her soaking up the sun with her dogs, or watering her succulents.
Julie
MotorClothes® Associate
Julie loves the atmosphere of working in a Harley-Davidson Dealership from being around all the beautiful motorcycles to the smell of exhaust. She takes customer service extremely seriously, it's her goal to make sure each guest gets exactly what they need and leave 100% happy. In her spare time, she can likely be found at the beach or hiking, hanging with her dog Jackson, and she's in school to become a Vet Tech.
Dylan
MotorClothes Associate
Dylan was born and raised right here in SD and has always dreamed of working at San Diego Harley-Davidson! She has been riding on the back of her dad's Harley since she was a little girl. She is truly perfect on the floor in MotorClothes because, in her words, "I love meeting and interacting with people from all walks of life." A fun fact about Dylan is her love for rats...apparently even her dogs enjoy hanging out with her rat.
Alannah
Receptionist/Snack Shop
Alannah aka Snack Shop Sad Boi is our receptionist and snack shop cashier. She loves that San Diego Harley-Davidson has been so welcoming to her since day 1. If Alannah isn't here at work you can find her with her dogs Tuco and Ronnie.
Parts Department
Red
Parts Manager
Red has been in the Harley® industry since 2005. He started out washing bikes while he moonlighted as a professional wrestler. He worked his way up through the parts department and is now the Parts Director here at San Diego Harley®. Coming from Seattle, he loves the fact that the riding season in San Diego is basically 365 days a year. Red rides a 2018 Fat Bob with some of his own personal "Predator" touches. In his free time, he loves to eat, smoke cigars, and watch baseball, but not necessarily in that order.
JoJo
Parts to Service
JoJo comes to San Diego Harley® from Seattle and loves the year-round riding and passionate riders in the area. Jo Jo rides a 2018 Low Rider, he loves good music and is an overall great guy. He loves working at San Diego Harley® for the people, atmosphere and events. Problem solving is his favorite part of the job, "this dealership is the best of the best and I'm stoked to be a part of it!"
Mike
Assistant Parts Manager
Mike has been working for Harley-Davidson® since 2007. His favorite part about being at SD H-D® is "Helping customers make all their dreams come true!" He's known in the department for always being a big help and a crucial part of the family atmosphere.
Hollywood George
Parts Advisor
George "Hollywood George" Petix, rides an 02' Dyna FXDXT Club Custom. He has been providing customers with the best parts for close to 8 years now. George enjoys "being part of the family here, and the tight knit friendly environment. I have a vast amount of happy customers and product knowledge, especially when it comes to Sportsters, Dyna's and the associated club style mods!!"
Ryan
Parts Advisor
Ryan is an Army veteran who was born and raised in SoCal. "I have loved Harley-Davidson® for as long as I can remember and am excited to be part of the SD H-D® family." Ryan currently rides a 2019 Road King Special. He loves interacting with all of the wonderful people who come into San Diego Harley-Davidson® and he especially enjoys sharing riding stories.
Gimli
Parts Advisor
Bio coming soon...
Support Staff
Kim
Controller
Kim has been with San Diego Harley-Davidson® for over 8 Years. "I love my job and my work family at SD H-D®. We have built an awesome team who share the same goals and have the same passions for what we do. I consider everyone here family and they are the best of the best." Kim commutes to SD H-D® from Ramona where she is raising a family who loves the outdoors and competitive horseback riding.
Derik
Motorcycle Inventory Control
Derik has been working for San Diego Harley-Davidson® for over 15 years now. He is inspired to fulfill the dream of owning a Harley-Davidson® motorcycle, providing extraordinary customer experiences, and fueling the passion for freedom that only a Harley-Davidson® motorcycle can provide. He has been riding for nearly 25 years and his life changed the day he bought his first Harley®
Dawn
Sales Support
Dawn has worked for San Diego Harley-Davidson® for over 16 years! She has been a huge support of our sales department through her knowledge and meticulous organizational skills handling all of the paperwork. According to Dawn, "I couldn't imagine working anywhere else, this is my family."
Trisha
Marketing & Events Director
Trish is our Marketing & Events Director. Not only does she love to plan events for our customers but she loves designing graphics for our website. She is a native San Diegan who loves to travel and spend time with her family. She is married with two little girls. Over the course of her time at San Diego Harley-Davidson she has planned hundreds of rides, shop events & charitable fundraisers for the community of San Diego. She is excited to work for a family owned business & loves the positive atmosphere!
Linda
Accounting/HR
Linda is a queen of numbers as a new hire in our accounting department. She's traveled near and far to wind up at San Diego Harley. Over the last 30+ years, she's gone from Nebraska, to Texas, and finally to the sunshine of SoCal. Even though she doesn't ride a bike now, she loves looking at bikes - which means she's definitely in the right place! When not working, she enjoys dogs, cats, baking, and Bunco. Fun times!
Noe
Custodian
Noe is easily one of our hardest working employees at San Diego Harley-Davidson. He's like a machine. In his words, what makes him good at his job is "honor, duty and loyalty." We are so grateful to have Noe keeping SDHD on Morena and Kearny clean plus all of his other additional duties such as event support and overall dealership support.
Rentals Department
Brandon
Rentals Manager
Harley owner and touring enthusiast for 27 years. Love renting the dream. Hardtail Shovelhead build in the works.
Matt
Rentals Technician
Bio coming soon...
Seaport Village Team
Hayley
Store Manager
Hayley has been with SD H-D® for the past 6 years. She loves working with her co-workers and meeting people from all over the world at our Seaport Village location. According to her, "it really is a great family atmosphere. I love that I get to be apart of this amazing iconic American company!" Hayley is originally from Idaho but went to high school in Germany and Australia. She loves traveling and spending time outdoors, especially hiking and surfing.
Tara
MotorClothes® Associate
Tara loves the people she works with and the awesome customers that come in. She especially loves hearing their stories and where they are from. She enjoys the San Diego Harley-Davidson Events, helping customers find what they want and keeipng herself busy by making the store look beautiful.